Within only the past few months, innumerable cases of police brutality in the United States have hit the headlines. Unfortunately, few of these make the national news, but here are some that really could have been featured on a national level for being diabolical and/or just simply bizarre.
Some of these reports are so outrageous that they're hard to believe. And although most of us like to think the police are around to protect and be of service to us - and most undoubtedly are - when cops become extremely mean-spirited, angry, violent and even evil, the results can become sinister, strange, and sometimes deadly.

Copwatch websites never seem to run out of material to slap up on their pages. New entries are posted throughout the day and night, and this is a constant. There are so many recent incidences of cops caught doing atrocious and heinous acts that at least one more article on OpEdNews.com will be posted within the next few days just to cover the most recent of the worst of the worst of law enforcement's transgressions

*******

* Mum's the word with the Charleston, S.C. police authorities in relation to the death of 19-year-old Denzel Curnell, who was shot and killed Friday, June 20, reportedly by a Charleston police officer. Called by family and friends with the nickname "JaBa," Curnell hardly fits the profile of a dangerous criminal.

Circumstance surrounding Curnell's killing are nebulous and the case is under investigation. The shooting was reported about 10:30 p.m., June 20, at Bridgeview Village, a 300-unit apartment complex on North Romney Street. Eyewitnesses reported seeing an evil scene where Curnell was shot while he was unarmed and on his knees.
A possible cover-up? Perhaps. WCSC reported that an email sent to Charleston City Council members and other local government officials a few hours afterwards referred to JaBa's death as "a possible suicide."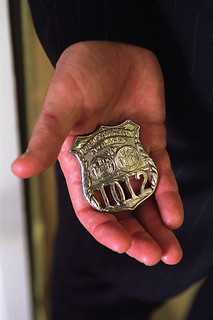 In recent months, numerous heinous and/or weird displays of abuse of power and violence have come from those wearing this badge. Copwatch websites never seem to be at a loss for material.

(

image

by

The U.S. National Archives

)

DMCA

A note from a girl named Sunshine succinctly sums up JaBa's personality in the wake of this evil: "JaBa was always a good person. He never bothered anyone. One day he was walking in the back of Bayside (the Bridgeview area's former name) and he heard a voice that said, 'Put your hands behind your back', and he did that, and then the police shot him in the back. And we want justice for JaBa."


Over the weekend, handmade paper signs were put up and dozens of folks gathered, demanding "Justice for JaBa." This would be the 23rd officer-involved shooting in the area for 2014. (See: http://www.postandcourier.com/article/20140621/PC16/140629818 and http://thefreethoughtproject.com/witnesses-cops-teen-kneel-shot/.)

---

*A video of the March 8, 2013, shooting death of Daniel Saenz was released during the middle of this month after the Texas Attorney General's Office ordered the city to comply with an open-records request made by the El Paso Times. The newspaper requested the video be released in February after a grand jury decided not to indict El Paso Police Officer Jose Flores in shooting Saenz. In the video, Saenz is handcuffed when he is being shot.

Saenz was being taken from the jail to a hospital during the time of this incident. Jail staff refused to accept him because when he was being led into the jail "he struck his own head into the doorway causing himself injury," according to a Custodial Death Report.

Flores pulled out his taser gun after he drew his handgun and fatally shot the handcuffed Saenz. The 37-year-old had been arrested that day on assault charges after allegedly attacking an off-duty police officer and staff at Del Sol Medical Center. He was taken there after he was exhibiting strange behavior at a supermarket on Yarborough Drive in El Paso, according to reports.

Jim Jopling, a lawyer with the Combined Law Enforcement Associations of Texas (CLEAT) representing Flores, said in a statement that the group believes the grand jury cleared Flores because of "the totality of the circumstances, which includes the long sequence of events that came before the shooting itself."

Saenz begins to struggle with the officers in the video after they stand him up. He falls down but attempts to rise, and two officers are on top of him. Saenz kicks, then attempts to turn around and twists, grabbing at Flores, who is behind him. When Saenz pushes off, Flores draws his Glock semi-automatic handgun from his right holster. The guard moves away and Flores fires a single gunshot. Flores then holsters his gun, pulls his yellow Taser and gets atop of Saenz, who is face down, bleeding from a shoulder. Saenz continues to kick for a few seconds, until he stops moving, as blood spreads on the ground. Saenz is eventually turned over. Flores then begins CPR before paramedics arrive. An ambulance takes Saenz to a hospital, where the victim is pronounced dead. An autopsy revealed the bullet traveled from Saenz's shoulder and into his chest, as this occurrence is evidenced by YouTube videos and newspaper and online magazine accounts. (See these videos: www.youtube.com/watch?v=0AG_-EXd9Es and www.youtube.com/watch?v=o3obAbbx1HI.)
Police keep an upper hand on America's streets and like to have backup, and sometimes a sea of blue responds to an incident. Sometimes cops lose control and things turn violent, even deadly.
(
image
by
DanDawson
)
DMCA