Ashley Judd's op-ed in USATODAY drove me to the Tao Te Ching before my head exploded. In another example of celebrity naivete falling prey to the obfuscations of non-governmental organizations in Congo, Judd wrote: "In Congo, 600,000 babies a year are born only to suffer and die." She added, "My husband and I despondently call these precious little ones 'the born to dies.'" Judd's solution, a parroting of the NGO Population Services International, is that family planning is the answer, since fewer babies means less babies will die and society as a whole will benefit.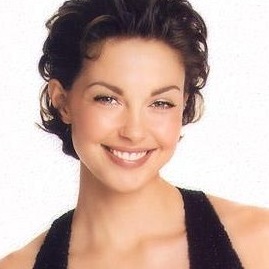 Image: Ashley Judd
This is a naïve analysis, since the population in Congo is barely sustainable with a life expectancy at birth of 54.15 years, and it is far less in remote areas. The statistics Judd uses are hardly compelling when she says that 20 percent of Congolese men and women approached in 2007 said they did not wish to have more children. I am sure Ashley Judd is a nice person with good intentions, but she is another example of NGO's using the bully pulpit of celebrity to line their coffers, while they operate with a western sensibility, forcing western values on tribal populations.
Let's do a reality check.
Judd profiles a home in Kinshasa, the capitol of DR Congo, and bemoans the lack of amenities in the home she visited. Let's remember that Kinshasa is one of the safest places to be in Congo these days. She describes a family with two toothbrushes, some furniture and bad drinking water. The conditions are horrible, but this family has a roof over its head and is not living in the open-air, plastic tents and volcanic rock environment of eastern Congo. Travel in eastern Congo and you will learn that the women there are fighting to have their children and keep them alive. New life equals hope and Judd has completely missed the tenacity and resolve of poor Congolese women. Judd says, " In my work around the world with PSI and our many partners, I have seen irrefutable evidence that unregulated fertility undermines every other effort to improve health, living standards, the economy and the environment."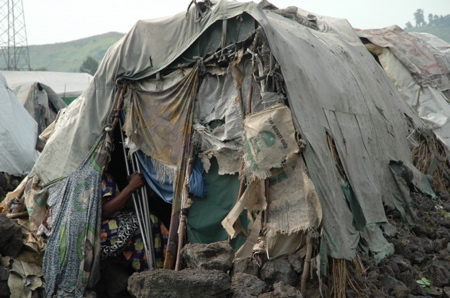 Image Nienaber: Home in the IDP Camps Where Children are Cherished
Is this true? Hardly.
Congo's economy is not undermined by "unregulated fertility" rates. Why do these NGO's feel they have the right to regulate birth rates? Civil society has been destroyed by decades of war and over a hundred years of exploitation of Congo's wealth by international interests. Congo is not a country. It is a place on the map where the tribal population struggles to survive. Local populations are fed up with western interests meddling in their lives.
Consider this report from the November 4 Weekly Threat Assessment issued by the UN mission in Congo, MONUC. It is a window into the anger the Congolese feel regarding conservation and medical NGO's.
Human rights abuses by men in uniform are widely reported all over the province and the FDLR continue to pose a threat to peace and security.

During the weekend, the civil society of Lubero demonstrated violently against the deterioration of the security situation in Lubero Territory since the beginning of the Kimia II operations. They presented several grievances, including urgent action to be taken against perpetrators of human rights abuses, the extrication of the FARDC from Lubero town, a stronger MONUC presence in the backing of the FARDC operations and the removal of all NGOs (claiming they want security instead of food).
"Security instead of food," and one might argue life and liberty instead of "family planning."
The statistics are heartbreaking. 83.11 deaths per 1,000 live births. Since the outbreak of fighting in August 1998, at least 5.4 million people have died. Although only 19 percent of the population consists of children, children and infants account for 47 percent of the deaths in DR Congo. How can Ashley Judd maintain that the solution for the Congolese is having fewer children?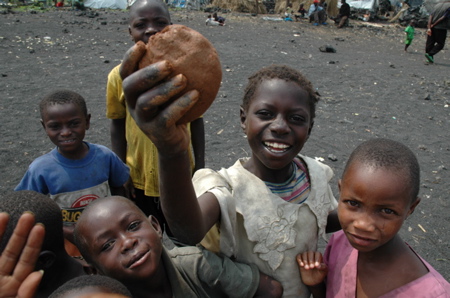 Image Nienaber: The camps. Are they better off not being born?
In villages around Goma, 70% to 80% of delivery cases are performed at home and only 20% to 30% are performed at medical centers. Volunteer midwives brave rape and shootings to visit these villages to assist fragile new life as babies and mothers struggle to survive. The family is the heart-center of village life. Who are American celebrities to deny women the right to bear children?
In January of this year we met with Josephine K. who has been a witness to war and brutality for most of her 86 years. She is also a founding member of a midwife grass roots organization operating out of Goma. Josephine told us that when she was a child there were hardly any white men. With the coming of "the whites," the wars became worse. "There are so many wars, what do you want me to say?"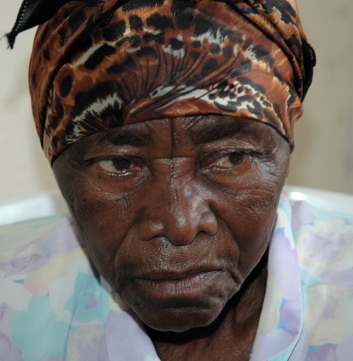 Image Nienaber : Midwife

1 | 2