You probably don't remember last year's story about the 'plot to bomb New York Synagogues,' but you really should try and remember the latest development in that particular case.

Arrested in May 2009, the four men were identified as James Cromitie, 55, David Williams, 28, Onta Williams, 32, and Laguerre Payen, 27; they are all residents of Newburgh in upstate New York. Their lawyer recently filed a motion to have the case dismissed on the grounds that the plot to bomb synagogues was entirely the brain child of the FBI and that the men were used by the FBI's 'professional informant' Shaheed Hussain.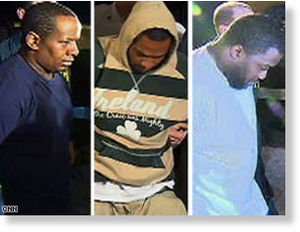 The defendants' lawyer claimed that Hussain's job involved visting suburban mosques in an effort to find members with anti-American leanings and recruit them to join a fake terror plot, supposedly funded by a Pakistan-based group. In baiting the men Hussain reportedly:
Drove around in FBI supplied BMWs, Hummers, and other cars to make him appear well-funded
Suggested to the defendants that he could provide them with $250,000
Attempted to incite the defendants by blaming Jews for the world's evil and telling them that attacks against non-Muslims were endorsed by Islam
Suggested targets that the defendants wanted to attack
Paid for the defendants' groceries
Bought them guns
Provided fake bombs and missiles
Assembled explosive devices
Acted as their chauffeur
Despite these extreme efforts, the defendants refused to engage in any illegal activity with James Cromite, saying, "I'm not gonna hurt anybody" and "The plane thing ... is out of the question."13

This, dear readers, is the meat of the US government's case for the reality of a homegrown terror threat that necessitates the introduction of the civil-liberty squashing McCain-Lieberman bill.



Some Hapless Dudes - Revisited



Since we're on the topic, it seems pertinent to revisit the equally farcical case of the 'Miami terror cell' from 2006.

This was the case of the slightly deranged group of five Christian-Zionist-Muslim martial artist immigrants called the 'Sea of David' who were quietly living in a warehouse in Florida, awaiting the fulfillment of the biblical end times prophecy, when one day an undercover FBI agent came along and:
offered them $50,000
initiated them into "al-Qaeda" (complete with oath swearing)
provided them with military boots and a video camera
suggested that they wanted to blow up certain government buildings and the Sears tower in Chicago
The leader of this group of unlikely terrorists, Narseal Batiste, needs psychiatric help, according to his father, and even Justice Department officials acknowledged the group did not have the means to carry out the plan," while at the same time lauding it as a 'major announcement.'14,15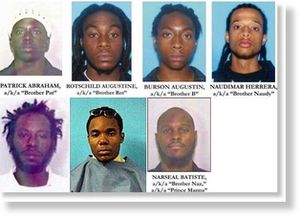 Two community activists familiar with the case and the group pointed out that the accused couldn't even afford their own cameras and that the federal government had to buy them for them. The government was also forced to rent the men the cars that they needed to get downtown in order to take the 'terror pictures.' When the men finally gave in and provided the FBI informant with a list of things they needed in order to blow up the buildings, they forgot to include any explosives or any materials which could be used to make explosives.16

Despite this, all five men were convicted on 'terrorism' charges in May 2009.

Hopefully these two examples give us a better understanding of how and why these unlikely 'homegrown jihadist' types are created - depending on how informed you are, it's either for your brainwashing or your entertainment.



The Global Game



But it would be foolish to think that this phenomenon is limited to a series of well-planned and manned FBI setups. This particular spider's web is global in nature.

David Headley, the CIA agent, is accused of contacting 'Lashkar-e-Taiba' (LET). The five teenagers arrested in Pakistan are also said to have had contacts with this shadowy group, which appears to be the new "al-Qaeda" and the US governments main justification for its continued bombings of Afghanistan's civilians. So it's worth taking a brief look at LET's origins:

Founded by Muhammad Saeed in Afghanistan, LET is currently based near Lahore, Pakistan and operates several training camps in Pakistan-administered Kashmir.

Muhammad Saeed is a Pakistani Islamic scholar. During the extremist regime of General Zia-ul-Haq of Pakistan in the early 80s, Saeed was sent to Saudi Arabia to take part in the US-sponsored Afghan Jihad against the Soviets, which involved him recruiting and directing groups of Afghan, Saudi, and Pakistani fighters.

By 1979, large quantities of American dollars had begun flowing into General Zia's coffers, and he was clearly well aware of his controlling position. What price would the US government of Jimmy Carter pay for his help in establishing what is today called the 'Taleban' and Lashkar e Taiba? When offered a $400 million 'aid' package, Zia sneered and said 'peanuts.' (Carter used to be a peanut farmer).