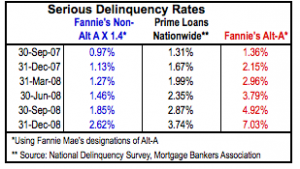 The SEC claims that the "true" Alt-A amounts were twice as high as the reported Alt-A amounts. For instance on March 31, 2008, Fannie reported $311 billion in Alt-A loans, and the SEC says that Fannie omitted approximately $323 billion from the total Alt-A amount. But since the "undisclosed" Alt-A loans had a serious delinquency rate that was about half that of the disclosed Alt-A loans, inclusion of those additional loans would have significantly improved the delinquency and default rates for that risk category.

Which is why the SEC will never be able to prove that senior management had the specific intent to deceive investors, or that investors were clearly harmed by by Fannie's categorizations.
For Fatal Flaws In The Lawsuit Against Fannie Mae Execs, Part 1, go here.