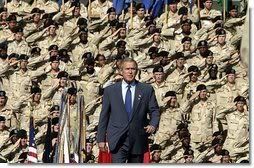 Or this?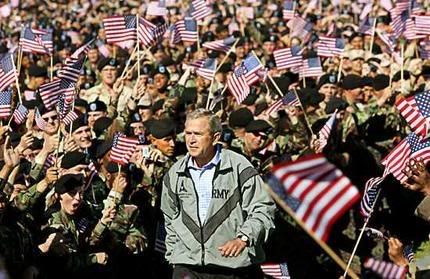 Or this?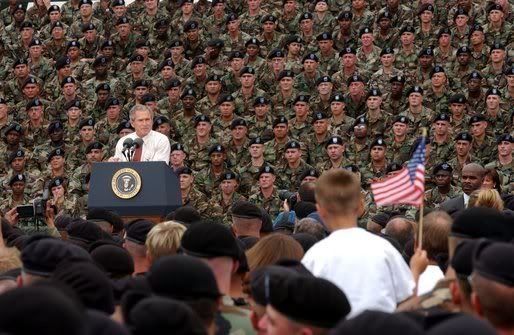 Or...
The fact is that there loopholes in the uniform/politics rule besides the fact that it is largely directed at active duty members of the military it says that uniforms are prohibited ...
(2) When participating in public speeches, interviews, picket lines, marches, rallies, or public demonstrations, except as authorized by competent authority.
Obviously since the President consider himself to be a "competant authority" - hey, quick snickering - he can have uniformed active duty officers appear anytime and anywhere he feels like, even at a completely political event like when he declared Mission Accomlished four years ago.
But that's the kind of ridiculous double-standard we've grown to expect from Repubs isn't it?
In recent days Dailykos has taken flack for random comments about gassing Joe Lieberman even though the comment clearly wasn't meant to be taken literally and had nothing to do with Jews or the Holocaust and it was heavily criticized and troll-rated by other commenters long before O'Reilly got wind of it, it has been used repeatedly to argue that DKos is a "Hate Site."
Meanwhile as Jon Stewart pointed out, it has become common practice to accuse critics of the war of being traitors.
So let's really talk about Hate Speech, ok?
Guess what Melanie free speech really isn't absolute, and you've just stepped into the deep end since there is something that limits it called the Fighting Words Doctrine.
The fighting words doctrine, in United States constitutional law, is a limitation to freedom of speech as granted in the First Amendment to the United States Constitution. In its 9-0 decision, Chaplinsky v. New Hampshire (1942), the U.S. Supreme Court established the doctrine and held that "insulting or 'fighting words', those that by their very utterance inflict injury or tend to incite an immediate breach of the peace" are among the "well-defined and narrowly limited classes of speech [which] the prevention and punishment of...have never been thought to raise any constitutional problem."