The Connecticut Attorney General issued the following statement after filing the complaint against S&P:
"We are holding the credit rating agencies accountable for a secret Wall Street tax on Main Street"

"All three credit rating agencies systematically and intentionally gave lower credit ratings to bonds issued by states, municipalities and other public entities as compared to corporate and other forms of debt with similar or even worse rates of default, Blumenthal alleges" Richard Blumenthal, Connecticut Attorney General, July 30, 2008 (Blumenthal is now governor of Connecticut)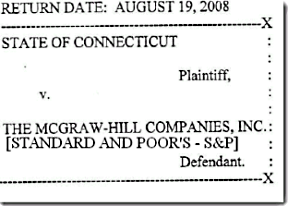 Section V of the complaint, referenced in the heading above, teaches us something about how S&P treats government entities.
"Since at least 2001, S&P has known that it underrates public bonds as compared to corporate bonds and that this policy costs public bond issues money in the form of higher interest costs or unnecessary bone insurance costs. Despite knowing these facts, S&P continued to represent that its credit ratings are on the same scale, that public issuers have the same credit risks as similarly rated corporations, and that public bond issuers with lower credit ratings have a greater likelihood of not paying their bonds than a bond issuer or corporate bond issuer with a higher credit rating. These knowingly false representations harm public bond issuers when the buy bond insurance based on their own ratings and bond buyers who consider S&P's credit ratings when deciding to purchase public bonds." (Author's emphasis) State of Connecticut v. the McGraw Hill Companies (p. 12)

Here's a credit firm that takes money from local governments and citizens by issuing ratings it knows are flawed. This is the same credit rating firm wielding major influence on the US budget process. There is no doubt that S&P's influence will work against the interest of citizens.
The math error should be thoroughly examined. If the White House is right, S&P can withdraw their rating. If it's not, the critique and attack on S&P credibility needs to be met at a very high level Paul Krugman has already begun. Others should follow. These people have no right to impact US economics and politics in any way, let alone one that has a major influence.
END
This article may be reproduced with attribution of authorship and a link to this article.

1 | 2