Comments on Blair's testimony
Rebekah Brooks' answers at the inquiry were clearly outside the recommendations for witnesses under adversarial examination. Stick to simple answers, take your time, don't volunteer information not asked. Blair's responses verged on pressured speech and had all the appearances of preemptive strikes against anything critical that the inquiry might produce.
His self-described position on media policy was wildly inconsistent with the claim that he wasn't going to risk the New Labour agenda over a fight for tighter media rules that may have offended Murdoch. As he described his media agenda time and again during the hearing, there was no conflict with New Labour Prime Minister's media policies and Murdoch's core requirements. Favoring foreign ownership of British media meant favoring Murdoch ownership. After all, Murdoch is a foreigner in Great Britain. Favoring light regulation was also music to Murdoch's ears.
So, how on earth was Blair going to risk his grand agenda by taking on Murdoch regarding media regulation? There was no conflict, therefore no risk.
Blair used plagiarized, self-serving, false intelligence information to enable the terrifying claim Bush needed to get just enough support to invade Iraq: The British government has learned that Saddam Hussein recently sought significant quantities of uranium from Africa. Hussein would soon have a nuclear weapon. The British told us so. We must invade! This was an act suitable for Le The- tre du Grand-Guignol.
If Blair would participate in lies of this magnitude and deadly impact, then he cannot be believed on subordinate issues that might threaten his reputation and freedom. Today's testimony was a pack of Blair lies by a certifiable sociopah designed to score points for his tattered reputation.
It's a shame that QC Jay had his examination terminated early. In the morning session, Jay made a veiled allusion to a secret meeting between former Prime Minister Margaret Thatcher and Murdoch. In his self-deprecating style, Jay said his failed attempt at humor referred specifically to the January 4, 1981 Thatcher-Murdoch meeting. Denied for years, notes on the meeting were discovered by Cambridge University archivists. Shortly after their tête---tête, Murdoch was able to bypass the legal prohibition against a foreigner purchasing The Times of London. Then Australian citizen Murdoch made an acquisition that was to confer legitimacy on his criminal operation.
Who knows where QC Robert Jay would have gone with that theme absent the raucous entrance by the protester at stage center proclaiming the obvious?
One thing we can conclude is that Tony Blair felt the urgent need to justify his behavior with Murdoch. He must be very afraid of something.
END
This article may be reproduced with attribution of authorship and a link to this article.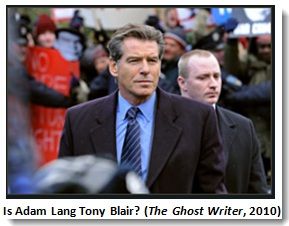 The Money Party Rupert Watch series



1 | 2