A former classmate of Sharif's, Dawn Bass, said she was "shocked" to learn of the allegations against Mobley. "He was a sweetheart" who was "always showing off in the back of the classroom doing his karate moves and stuff. He was just a regular kid, he was always talking to everybody - he was not shy."6



Homegrown Terrorist Plot Number 3



Jihad Jamie - March 15th 2010

Jamie Paulin-Ramirez, U.S. mother-of-one, childishly dubbed 'Jihad Jamie' by the mainstream press, was named as part of a plot to kill the Swedish cartoonist who had depicted Mohammed with a dog's body. She was arrested, along with six others, by Irish police in Ireland.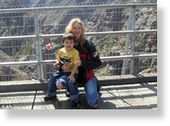 Christine Mott, Jamie's mother, stated, "these terrorists came into my home through the internet, uninvited, and have ripped my family apart. The only thing I could think of is that they brainwashed her.7, 8

Jamie was "the kid in the class everyone picked on and made fun of," her mother said. Married three times before she left for Ireland, her first husband used to beat her. The pictures of both Jihad Jane and Jamie appear to be those of vulnerable women who were drawn in and used as propaganda tools. But by whom?



Homegrown Terrorist Plot Number 4



Pakistan Five - March 17th 2010

A Pakistani court formally charged five young Americans of plotting terrorism in the country in yet another recent case that is being used by the mainstream media to trumpet the 'danger posed by militants using the Internet.'

The students from Virginia, all in in their 20s or younger, were detained in December 2009 in a town southeast of Islamabad. The main charges against them also involve the use of the internet to "contact militants" and "plot attacks."

A defense lawyer for the men, Hassan Dastagir, said the charges brought against his clients included fundraising for terrorist acts.9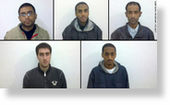 Mustafa Abu Maryam, youth coordinator at the I.C.N.A. Center, an affiliate of the the Islamic Circle of North America, in Alexandria, Virginia said "I have always known these kids as fun-loving, career-focused children that had a bright future for themselves. As far as I know they were wholesome kids. Very goofy. You know, talked about girls. Very wholesome."

All five men pleaded not guilty and described the charges as "lies" and affirmed that they only wanted to provide fellow Muslims in Afghanistan with medical and financial help. The men accuse the FBI and Pakistani police of torturing and trying to frame them. The parents of all five have received letters from their children stating that they were beaten and threatened with electrocution. In one letter one of the five wrote, "they beat the hell out of me and the rest of us until we said what they wanted us to say. They even threatened to electrocute us the day before court so we don't tell the judge but we spoke out."10

Shades of Abu Ghraib, no doubt.



Homegrown Terrorist Plot Number 5



From Chicago to Mumbai - March 18th 2010