The reductions in fuel subsidies were substantial, 10%, angering the people. The increases for social support were modest. IMF got it all wrong when it concluded: "The program is off to a good start. A number of important policy measures have been implemented to address fiscal imbalances." IMF, August 19, 2010

Yemen has seen massive anti regime demonstrations over the past two weeks. The most prominent demand is the removal of the autocrat, Ali Abdullah Saleh, who has ruled since 1978. Since the initial protests at the end of January, the anti regime movement has backed the long-standing ruler into a corner. Abdullah Saleh is now losing support from his remaining stronghold and may be gone soon.
IMF sees the Oman as a very safe bet for success due to "sound macroeconomic management." Long one of the favored developing nations, the IMF said the main risk to Oman was from falling oil prices, IMF said. Oil prices were up significantly when major protests broke out in this model economy.
On March 1, Aljazeera reported that, "The demonstration was organised by intellectuals and non-governmental associations and protesters held placards reading 'We want jobs', 'We want higher salaries' and 'We want freedom of the press'."
The revered Oman represents another IMF predictive failure, as does Bahrain, the site of a resistance movement that faced down murderous attacks. Prior to the protests, IMF extolled, "the Bahraini authorities' prudent macroeconomic policies and strong financial oversight."
Who Benefits?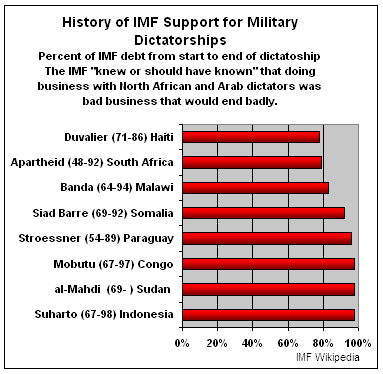 Tunisia, Libya, Egypt, Yemen, Oman, and Bahrain had two things in common prior to the popular uprisings. They aligned with the fiscal and economic policies of the IMF and autocrats were in charge. If you are an autocrat, dictator, strongman, in charge of a nation of any size, you have to love the IMF.
They come into the country and establish financial criteria. These strictures don't harm you, the dictator, one bit. You get loans and favorable trade agreements. Cooperation with IMF globalization is the ticket to a series of big paydays. You get current and future rake offs for you and your cronies, and nobody at IFM complains. (Data for graph)
Then you get to buy weapons and other goods that are totally useless to your citizens. That turns into another source of payoffs and enhanced personal income.
Your people live in a state of existential dread if you add unfulfilled dreams to the material deprivation. But you're looking good to IMF and, as a result, your personal fortune grows. Just play ball with the big boys and it's a never ending holiday for you and your friends.
How much more of this IMF success package can the people of the world endure?
END
This article may be reproduced entirely or in part with attribution of authorship and a link to this article.

1 | 2