"Facilitating affiliation among banks, securities firms and insurance companies"
"Commercial banks, brokerage firms, hedge funds, institutional investors, pension funds and insurance companies can freely invest in each others businesses as well as fully integrate their financial operations."
This was a bipartisan effort with the Senate version passing 90 to 8 and the House 362 to 57.
The once scorned derivatives had been the Holy Grail for "free" market radicals on Wall Street and elsewhere for years. They said that the restrictions on these products were unnecessary and stifled the free market ("free" for them). Even before Congress acted definitively in December 2000, the U.S. Court of Appeals for the 7th Circuit struck down the ability of the Securities and Exchange Commission (SEC) to rein in ruinous high risk financial schemes on Sept.1, 1999.
Reagan appointees Richard Posner, then chief judge, and current chief judge Richard Easterbrook were key movers. They're also heavily involved with the Law and Economics movement, a right wing, free market movement that opposes almost all regulation in Pavlovian fashion.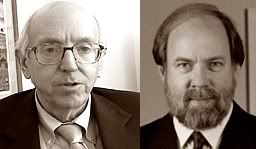 7th Circuit judges Richard Posner and Frank Easterbrook started
the demolition of SEC regulatory power of high risk derivatives.
Credit default swaps and other derivatives had been illegal for decades. In 1981, specific rules were set up to tighten restrictions against these schemes. But all that changed on Dec. 21, 2000 when the lame duck Congress passed the "Commodity Futures Modernization Act of 2000'" making these products legal. The legislation also barred the gathering of information that would serve as early warning on the legalized gambling on credit worthiness. Regulators were helpless in looking out for the public. Here's the title of the House version of the bill:
"To reauthorize and amend the Commodity Exchange Act to promote legal certainty, enhance competition, and reduce systemic risk in markets for futures and over-the counter derivatives, and for other purposes" 106th Congress, 2nd Session, H. R. 5660
This is the vital wording modifying the Securities Act of 1933 that undid the economy:
"Section 2A--Swap Agreements The Commission is prohibited from -- promulgating, interpreting, or enforcing rules; or issuing orders of general applicability." The Senate and House bills were combined in to H.R. 4577, an appropriations bill for the Departments of Labor, Health and Human Services, and Education signed by President Clinton. Someone had a perverse sense of humor.
In other words, Congress legalized what had been illegal for decades and it secured the 7th Circuit's opening gambit of handcuffing the SEC in dealing with the new high risk financial products. Congress fixed the game so that the short staffed regulatory agencies couldn't monitor the market even if they wanted that function.
Good luck trying to find the legislative debate on this momentous change. There was none. The enabling legislation for this disaster was passed by an overwhelming majority in the House of Representatives and by unanimous consent in the Senate.
It's important to have a "Roll Call" for the sponsors of the "Commodity Futures Modernization Act of 2000." They made it happen.
Top row: Senators (S. 3283: Richard Lugar (R-IN), sponsor, cosponsors Senators Tom Harkin (D-IA) and Tim Johnson (D-SD).plus cosponsors, Retired Senators Peter Fitzgerald (R-IL), Phil Graham, (R-TX), Chuck Hagel (R-NE). Bottom: Representatives (all retired) (H.R. 5600)Thomas Ewing (R-IL) sponsor; cosponsors Thomas Bliley, Jr. (R-VA), John J. LaFalce (D-NY), Jim Leach (R-IA).
Expect More of the Same