" Reinhart and Rogoff picked the 90% figure almost arbitrarily. They chose, without explanation, to divide debt-to-GDP ratios into the following categories: under 30%, 30-60%, 60-90%, and over 90%. And it turns out that growth rates decline in all of these categories as the debt-to-GDP ratio increases, only somewhat more in the last category." Robert Shiller, Delusions and Debt July 21

So we've had a debt crisis based, in large part, on a study that reversed causality, picked an arbitrary unit of time (one year) for the ratio used, and created arbitrary categories, including the magic 90% and above danger zone, where there were the differences in declining growth were not that remarkable. The reversed cause and effect mistake is enough to throw the entire theory out.
But if Professor Shiller's erudite analysis doesn't satisfy you, here's one more reason to reject the debt ratio argument. It excludes manipulation and bad judgment.
The study by Reinhart and Rogoff notes the following countries as having the worst Debt-to-GDP ratios. Shiller pointed out that the measure isn't the cause of the crisis rather, the crisis causes the ratio. In practical terms, fixing the ratio is not guaranteed to fix the underlying causes of the economic crisis.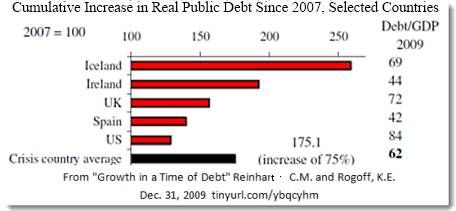 A variation of the causality critique is obvious. Iceland, Ireland, and Spain were subject to various manipulations by internal and international finance. The governments of the UK and US were subject to and enablers of the same manipulations. The variable that's missing is outside manipulation and government complicity in that manipulation. Absent the machinations of Wall Street and the City of London, would any of these countries have the same Debt-to-GDP ratios?
Those brave enough to watch on C-Span have endured the ranting and fulminations of a bunch of male hysterics. So sure of themselves, so expert at everything, so willing to take the country down as low as it can go economically -- all for a set of cherished assumptions. This is one of them. We should thank Robert J. Shiller for calling it what is -- a delusion.
END
This article may be reproduced with attribution of authorship and a link to this article.

1 | 2