The court in Claiborne also noted that even "advocacy of the use of force or violence does not remove speech from the protection of the first amendment." The court there was citing its earlier decision in Brandenberg v Ohio, which had overturned the criminal conviction of a Ku Klux Klan leader who had threatened violence against political officials in a speech. The Brandenberg court explained that "the constitutional guarantees of free speech and free press do not permit a State to forbid or proscribe advocacy of the use of force." Obviously, if the state cannot suppress speech even where it explicitly advocates violence, then it cannot suppress a video on the ground that it implicitly incites violence.
In sum, free speech is not intended to protect benign, uncontroversial, or inoffensive ideas. Those ideas do not need protection. It is intended to protect -- to foster -- exactly those political ideas that are most offensive, most provocative, most designed to inspire others to act in the name of its viewpoints. One could say that every significant political idea, on the right and the left, has that provocative potential. If speech can be constrained on the ground that it can inspire or provoke violence by others, then a wide range of political ideas, arguably the only ones that really matter, are easily subject to state suppression.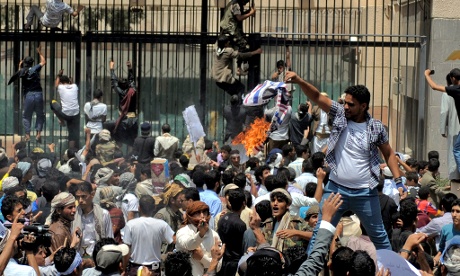 A Yemeni protester burns a US flag as others storm the US embassy in Sana'a during a protest. Photograph: Yahya Arhab/EPA
Other than would-be tyrants and their authoritarian followers, nobody should want that. Nobody should want the state to make and enforce lists of prohibited ideas. Even if such state action does not offend you in principle, there's a very pragmatic reason to oppose it: those who cheer when ideas they dislike are suppressed will very likely find, at some point in the future, that their ideas end up on the prohibited list, and will have little ground for objecting when it happens.
Then we come to the newfound champions of free speech on the American right. Conservatives do so love to depict themselves as victims: both in general and specifically as free speech martyrs. They particularly love to declare their rights assaulted at the hands of Muslims.
Sometimes their complaints are valid. That was true when Canada formally investigated a hateful right-wing journalist for his vile speech on the ground that it was "defamatory" of Islam, and when France did the same. It was true when Democratic city officials threatened or even acted to block zoning permits for a fast food chain on the ground that its owner expresses anti-gay views. It was true when violent protesters tried to suppress Danish cartoons about Muhammad, and it is true now with the violence (that is partially) in response to this video.
But the US and its western allies have, in the name of combating terrorism, engaged in free speech assaults aimed primarily at Muslims far more dangerous than any of those examples. And with very few exceptions, these same right-wing free speech champions have remained utterly silent, except when cheering it all on.
Last September, the justice department arrested and indicted Jubair Ahmad, a 24-year-old Pakistani legal resident living in Virginia and charged with "providing material support" to a designated terrorist organization (Lashkar-e-Tayyiba (LeT)). His alleged crime? As I wrote when the indictment was announced:
"He produced and uploaded a 5-minute video to YouTube featuring photographs of U.S. abuses in Abu Ghraib, video of armored trucks exploding after being hit by IEDs, prayer messages about 'jihad' from LeT's leader, and -- according to the FBI's Affidavit -- 'a number of terrorist logos.' That, in turn, led the FBI agent who signed the affidavit to assert that 'based on [his] training and experience, it is evident that the video ... is designed as propaganda to develop support for LeT and to recruit jihadists to LeT.' The FBI also claims Ahmad spoke with the son of an LeT leader about the contents of the video and had attended an LeT camp when he was a teenager in Pakistan. For the act of uploading that single YouTube video (and for denying that he did so when asked by the FBI agents who came to his home to interrogate him), he faces 23 years in prison."
Last July, former Obama justice department official Marty Lederman highlighted the arrest of a 22-year-old former Penn State student for -- in the FBI's words -- "repeatedly using the Internet to promote violent jihad against Americans" by posting comments on a "jihadist" Internet forum including "a comment online that praised the [October, 2010] shootings" at the Pentagon and Marine Corps Museum and "a number of postings encouraging attacks within the United States." He also posted links to a bomb-making manual.
Regarding the part of the indictment based on "encouraging violent attacks," Lederman argued that it "does not at first glance appear to be different from the sort of advocacy of unlawful conduct that is entitled to substantial first amendment protection under the Brandenburg line of cases."
As for linking to bomb-making materials, Lederman wrote: "the first amendment generally protects the publication of publicly available information, even where there is a chance or a likelihood that one or more readers may put such information to dangerous, unlawful use." As a result, Lederman concluded, the indictment "would appear to be very vulnerable to a first amendment challenge."
Such blatant assaults on the free speech rights of Muslims in the US, and in the west generally, are common. In 2009, a Pakistani man in New York was sentenced to almost six years in federal prison for the "crime" of including a Hezbollah news channel in the cable package he offered for sale to television viewers in Brooklyn. Just this month, a British Muslim teenager, Azhar Ahmed, was convicted of the "crime" of posting a Facebook message which said: "all soldiers should die and go to hell." There is even ample evidence that the US government targeted its own citizen, Anwar al-Awlaki, for assassination without due process not based on unproven claims that he was engaged in plotting terror attacks (a claim the government made only long after it was disclosed that they were trying to kill him), but rather due to its dislike of his political and religious sermons against the US which became quite popular among Muslim youth on YouTube.
The rationale for all of this speech-based punishment aimed at Muslims is exactly the same as the one used to advocate the suppression of the anti-Islam video and other anti-Muslim speech: it goes beyond mere "speech" and is intended to incite or justify violence. Those who accept that precept to ignore or even cheer for the suppression or punishment of views they dislike, while loudly decrying it when it comes to the views they share, are not believers in free speech.
They are just rank manipulators who exploit free speech values in an attempt to ensure that only their views can be heard while the views they despise are suppressed. This, unfortunately, is the clear history of the American right, now marching so flamboyantly behind the free speech banner in order to protect hateful anti-Islam speech.
It would be genuinely nice to believe that these newfound conservative free speech champions would henceforth become consistent allies in the fight against state suppression of political opinions: not just when their own ideas are attacked, but also when those views they hate are, including those of Muslim critics of US foreign policy. Until that happens, the complete insincerity of their free speech cheerleading is manifest.
Other Matters
It is just extraordinary, as I noted on Friday, that even after multiple wars and killings and invasions and occupations, the US, in the face of these anti-American protests in the Muslim world, is still stuck, oh-so-earnestly, on that eternal question: why do they hate us? That continues even as things like this happen continuously.