Foreclosure is the down side of the ownership society. When you're sold a bill of goods, a property that you were told you were qualified to buy, and you lose it, you are evicted from ownership island.
Before Congress passed the 2005 bankruptcy reform act, homeowners could avert foreclosure in many states by filing for bankruptcy. Not just anyone could qualify. The process of qualifying was difficult and, oftentimes humiliating. But homes were saved and families were preserved with a chance to start over.
A myth emerged of the bankruptcy abuser, a high-class sort of welfare cheat. These reckless people worked the system to rack up large debts that were subsequently wiped clean through bankruptcy. The alleged abuse of the system became the excuse for a major overhaul of bankruptcy law. The legislation passed the Senate with 74 yes votes and soon became law.
The changes since the 2005 legislation provide substantial benefits to creditors. Morgan et al summarized the direct benefits to creditors in a forthcoming publication in the New York Fed's Economic Policy Review. Before bankruptcy reform, the filer of a bankruptcy claim used to determine Chapter 7 or 13 filing status. That makes a difference in the amount and type of debt relief. The legislation imposes means test that determines precisely which chapter (7 or 13) filers must use. Significantly, chanter 13 filers retain more debt from medical and other unsecured credit.
Legal costs ranged from $600 to $1500 before bankruptcy reform. Legal fees now range between $2800 and $3700. Previously, there was no requirement for credit counseling prior to filing.
Filers must now document approved credit counseling six months before filing or face dismissal of their case (Morgan et al.). This counseling requirement can lead to unwarranted dismissals or inordinate delays in filing at a time when filers need relief.
Under the old law, only bankruptcy trustees appointed by the federal court could file claims of abuse by the filer. Under the new legislation, anyone can file a claim of bankruptcy abuse, which can lead to a dismissal of the cause. This is a huge benefit to lenders who wanted to keep citizens from realizing debt relief.
The Real Benefit for Big Money - Delayed Bankruptcy Filings
The new law makes it harder to file a claim, doubles costs, and gives the creditors a say in claiming fraud on the part of those who file claims. Significant delays in filing for bankruptcy became the norm.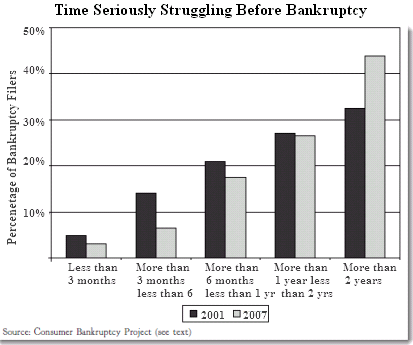 From Did Bankruptcy Reform Fail? An Empirical Study of Consumer Debtors, Lawless et al., American Bankruptcy Law Journal, Vol 82, 2008

Time is money for loan servicers. A long delay before a bankruptcy filing, allows servicers the opportunity to add on special fees, many of which the borrower can't comprehend. One thorough study showed that many of these fees were questionable. The longer it takes, the greater the revenue opportunities. Delay benefits creditors since loan payments continue at their original level.
What happened to those big spending, reckless bankruptcy abusers that were the rationale for the 2005 reforms? The following graph from the Consumer Bankruptcy Project shows that there is virtually no difference between the incomes of filers before and after bankruptcy reform. The majority of filers made between ten and forty thousand dollars a year before reform. That has remained virtually unchanged. The big spending abusers were and remain a mythical construct; the centerpiece of a diversion strategy to keep attention away from this never-ending gift to creditors.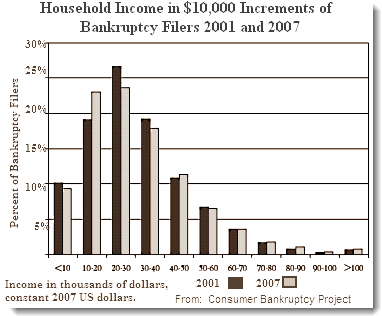 From Did Bankruptcy Reform Fail? An Empirical Study of Consumer Debtors, Lawless et al., American Bankruptcy Law Journal, Vol 82, 2008

These newly empowered creditors were the same creditors who hired debt collectors to try and frighten people out of their filings. A major study found that 24% of filers reported that debt collectors told deliberate lies to avoid bankruptcy. They heard that filing for bankruptcy would lead to jail, job loss, or an IRS audit. Some were told that it was illegal to file for bankruptcy. Lawless, et al. Did the Bankruptcy Reform Fail? An Empirical Study, October 2008