Quotation by Albert Camus:
You will never be happy if you continue to search for what happiness consists of. You will never live if you are looking for the meaning of life.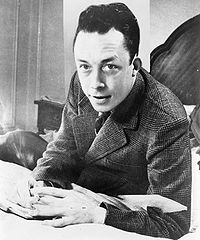 Albert Camus (more by this author)
1913-1960 (Age at death: 47 approx.)

Albert Camus (French pronunciation: [albɛʁ kamy]) (7 November 1913 - 4 January 1960) was a French author, philosopher, and journalist who was awarded the Nobel Prize for Literature in 1957. He is often cited as a proponent of existentialism (the philosophy that he was associated with during his own lifetime), but Camus himself refused this particular label. Specifically, his views contributed to the rise of the more current philosophy known as absurdism. He wrote in his essay The Rebel that his whole life was devoted to opposing the philosophy of nihilism while still delving deeply into individual freedom.

In 1949, Camus founded the Group for International Liaisons within the Revolutionary Union Movement, which (according to the book Albert Camus, une vie by Olivier Todd) was a group opposed to some tendencies of the surrealistic movement of André Breton. Camus was the second-youngest recipient of the Nobel Prize for Literature (after Rudyard Kipling) when he became the first Africa-born writer to receive the award, in 1957. He is also the shortest-lived of any literature laureate to date, having died in an automobile accident just over two years after receiving the award.

Author Information from Wikipedia

Country: United States

Type: Prose
Context: Unknown
Cited By: Georgianne Nienaber

Rob Kall is executive editor, publisher and website architect of OpEdNews.com, Host of the Rob Kall Bottom Up Radio Show (WNJC 1360 AM), and publisher of Storycon.org, President of Futurehealth, Inc, and an inventor . He is also published regularly on the Huffingtonpost.com
Listen to over 200 of Rob's Podcast interviews here.
Rob is, with Opednews.com the first media winner of the Pillar Award for supporting Whistleblowers and the first amendment.

With his experience as architect and founder of a technorati top 100 blog, he is also a new media / social media consultant and trainer for corporations, non-profits, entrepreneurs and authors.

Rob is a frequent Speaker on the bottom-up revolution, politics, The art, science and power of story, heroes and the hero's journey and Positive Psychology. He is a campaign consultant specializing in tapping the power of stories for issue positioning, stump speeches and debates, and optimizing tapping the power of new media. Watch me speaking on Bottom up economics at the Occupy G8 Economic Summit, here.
See more Rob Kall articles here and, older ones, here.

To learn more about Rob and OpEdNews.com, check out
A Voice For Truth - ROB KALL | OM Times Magazine
and
this article.
For Rob's work in non-political realms mostly before 2000, see his
C.V..
And here's a
one hour radio interview
where I was a guest- on Envision This, on 10/23/13. And here is the
transcript.
And
Rob's quotes are here
.
To watch me on youtube, having a lively conversation with John Conyers, former Chair of the House Judiciary committee, click
here
Now, wouldn't you like to see me on the political news shows, representing progressives. If so, tell your favorite shows to bring me on and refer them to this youtube video.
Rob's radio show, The Rob Kall Bottom Up Radio Show, runs 9-10 PM EST Wednesday evenings, on AM 1360, WNJC and is archived at
www.opednews.com/podcasts
Or listen to it streaming, live at
www.wnjc1360.com
Rob also hosted a health/mind/body/heart/spirit radio show-- the Rob Kall Futurehealth radio show. Check out podcasts from it at
futurehealth.org/podcasts
Follow me on Twitter
A few declarations.
-My articles express my personal opinion, not the opinion of this website.
Press coverage in the Wall Street Journal:
Party's Left Pushes for a Seat at the Table
| | |
| --- | --- |
| The views expressed in this article are the sole responsibility of the author and do not necessarily reflect those of this website or its editors. | |

Want to post your own comment on this Quotation?

---